by Ramunė Zdanavičiūtė

CHICAGO CAN NOT ONLY BOAST OF THE LARGEST Lithuanian community in the United States, but also as the proud owner of some of the best museums anywhere: the Art Institute, the Museum of Science and Industry, the Field Museum of Natural History, the Chicago Historical Society, and numerous others. Yet did you know that a bit further, in a rather non-impressive former warehouse at 900 N. North Branch Street near Halsted there is a six story building that houses Kendall College – a four-year educational institution that not only specializes in culinary arts and hospitality management, but is the home of a rather unusual museum?
The "Culinary Curiosity" exhibition at Kendall College displays food-related tools from the Mel and Janet Mickevic (Mickevičius) collection. The collection holds items primarily from the 19th and early 20th century America, but also some rare pieces from 18th century Europe and more recent objects from other cultures. The artifacts include farm implements, equipment used in bakeries and butcher shops, and items used by the home cook. The "Culinary Curiosity" exhibition organizes the collection by discipline – principles of food preparation and cooking familiar to professional chefs – such as size reduction, aeration, extrusion, heat transfer, and fuel conservation. It is composed of a series of displays located near classrooms and kitchen work spaces and can be seen in any order, unlike a controlled gallery experience. The first displays appeared in 2008 and work continues.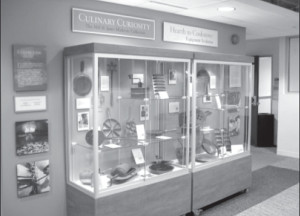 Viktorija Kašubaitė Matranga is a native Chicagoan. Born in the Windy City in 1950, she is an art historian by profession, but an incurable antique collector by calling. In 1971 she graduated from the University of Illinois with a B.A. in art history. Later, in 1978 she obtained a Master's degree in business administration at Northwestern University in Evanston, Illinois. Since 1992 she has been working for the National Housewares Manufacturers Association, and has curated numerous industrial design exhibitions.
Since childhood, Viktorija has been active in the Lithuanian community, participating in the scouts movement as well as in various other organizations. She served as curator of several art exhibitions in the Lithuanian and American communities, including "Lithuanian Refugee Artists in Germany," staged in Chicago in 1984. Her primary publication Design Chronicles: Significant Mass-produced Designs of the 20th Century was published in 2005; she is also co-author of America at Home: A Celebration of Twentieth Century Housewares (1996), as well as The Alliance of Art and Industry: Toledo Designs for a Modern America (2002). Her articles have appeared in publications such as Draugas, Lituanus, Bridges. She is also an independent consultant working for numerous museums and television stations. You've probably even seen her name in the credits of the popular television show "Unwrapped" featured on the widely acclaimed Food Network. Besides, Vickie is a good friend and neighbor of mine.
That's why I thought she'd be a great topic of interest for our Lithuanian Heritage readers to learn more about this unique culinary museum which I joking call "a creation of three Lithuanian culprits…" with Viktorija as its curator.
Knowing her Saturday morning schedule, secretly armed with a mini dictaphone in my purse, I made it a point to "bump into her" at the local farmer's market. Since she lives two blocks away from the market, she graciously invited me to her house for a cup of coffee.
This is the result of spending an hour sipping java…
– Vickie, you in essence are the culprit of what we see today at Kendall. How did you meet up with Mel?
Mel and I met in 2000 at the annual International Housewares Show. I've been working at the International Housewares Association since 1992, and wrote my first book, America at Home, in 1996. For the turn of the millennium, I created an exhibit for the Housewares Show, based on my book, to display 100 years of housewares products. I used some appliances and hand tools from my own collection along with borrowed items. Mel and his wife Janet came to the show each year because of his business as a food scientist. He invented food processing techniques and equipment and was interested in the consumer products made by companies that exhibit at our show. That exhibit excited him and he asked about who was responsible, and by asking a few questions he found his way to me. After that meeting at the show, I visited his home and we kept in touch over the years as he told me about his aims for his collection and how he was searching for a home for these objects.
He had tried to interest other museums into accepting the artifacts with little success, and was thrilled to finally enter into an agreement with a local educational institution in 2005. Once he had partnered with Kendall, he had tried to find a team of people who could make an exhibit of his objects. These earlier attempts didn't get very far.
I began working with Mel on the Kendall College exhibition in May 2007. In March of that year, he came to the International Housewares Show, where I work, and asked that I take on his project. He was wearing a shirt with epaulets that were the Lithuanian flag and I commented on that immediately. He invited me to come to his home to talk about creating an exhibit at Kendall College of the antique food-related items he had already gifted to the school. I found his ideas about how to interpret the tools according to food processing techniques very interesting and I accepted the challenge. I prepared a proposal for how I might do this and then Mel and I went to meet the dean of the Culinary School at Kendall. The dean liked my approach and so then we began.
– Was there ever any talk that you'd eventually become their personal curator?
I don't know if personal curator is the right term. I certainly have an understanding and love for the old kitchenware that he owns. He also has many other types of items, from stained glass windows to carnival carousel horses and architectural artifacts that appeal to me as well. Since my education and background was art and architecture, I value his house and the furnishings too. At this stage of his life, he is concerned about the disposition of his possessions and is considering how to auction or donate some of the other items. One of his favorite sayings is, "First we possess our possessions and then our possessions possess us."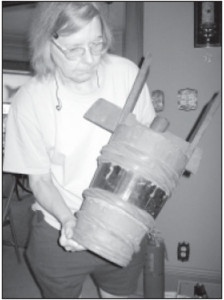 – Who is Mel? He's from a prominent East-coast Lithuanian family?
Mel was born Justinas Melvinas Mickevičius in Brockton, Massachusetts in 1927. He was named after his father, who came to the U.S. from Kupiškis at the age of 18 with $1.80 in his pocket. Mel's father worked in a slaughterhouse and then in a Pennsylvania steel mill. He married Boston-born Anna Ursula Kerisza, whom he had met at a Lithuanian event. They had two sons. Mel and his older brother both graduated from Massachusetts Institute of Technology (MIT) and were engineers. After service in WW II in the Engineer Corps stationed in the U.S., Mel finished MIT in Managing Technology and was on the Dean's List.—
His father ran a shoe and clothing store as well as a branch post office in Brockton and his mother was a notary public. Although his father was active in Lithuanian events and supported the Darius and Girėnas Transatlantic flight, they probably would not have considered themselves prominent. Mel's father had little schooling, but according to Mel he was very wise and a clever, innovative businessman. Mel remembers he was a child when his parents hosted Darius and Girėnas shortly before their historic flight. He said he had to give over his bedroom to the guests.—
– I heard that he has a very colorful and folkloric Lithuanian vocabulary?
Yes, Mel learned to speak Lithuanian in his childhood and retains many proverbs and expressions. Some are coarse, most are funny and he delights in recalling the language and those times. He enjoys working with me on this project because he can ask me how to spell a word, what a word means, or how to translate something. Until I met Mel, I had never heard "Tėvo mušimas kaip sviesto tepimas" ("A father's beating is like butter spreading.") We talk on the phone everyday and we make each other laugh. He tells me "Jeigu moki rašyti, žiūrėk kà rašai" ("If you know how to write, watch what you write.")
– And also a patient Lithuanian American wife?
Well, that's up to them to characterize. I'm sure there are times when it is hard for them to be patient with one another, just as with any older couple that has been together a long time and is now facing various physical maladies. Mel says she is very loving, and that they "get along well every other day." Janet is of Lithuanian background too, and has known Mel all her life. Her father, Justin Alikonis, and Mel were partners in creating candy-making machinery and processes. Alikonis was the research director for the Paul F. Beich Candy Co. in Bloomington, Illinois and Mel contributed to the technology their factory used.
– And isn't there another connection to Lithuanians working on this project?
Yes, the filmmaker is Paul Buchbinder. Paul is a professional who makes films for corporations for their internal staffing needs and has worked for big-name people to create television documentaries. We live on the same block and share many of the same friends. Also, his son goes to the same school as the son of the Kendall College Culinary School Dean and the families are friends. Paul is half-Lithuanian, and his mother Irene has been active with the Balzekas Museum Women's Board for many years. So Lithuanians relate on many levels on this project!
– Dealing with collectors, one can easily encounter a totally different breed of individuals. Obviously there is a substantial age difference between you and Mel, yet in essence you are both collectors. How does that correlate – your relationship as fellow collectors vs. employer/employee scenario?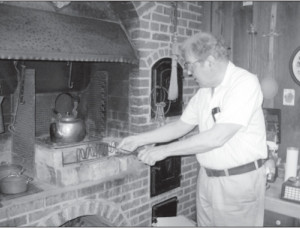 Yes, collectors have similar traits, no matter what they collect. It's the "thrill of the hunt" plus the love of the objects. Collectors are always on the lookout for the unique item that will relate to or complement what they already own, and they try to fill in gaps and find the unusual. Collectors often become extremely expert in identifying minute points of distinction in their beloved categories, from maker's marks to materials. I know people who collect figurines of soldiers from the U.S. Civil War, some who collect toasters and vacuum cleaners, still others who collect Santa Claus dolls. There are people who collect absolutely anything. These days, even with Antique Roadshow TV programs and eBay bringing the world and its variety to our lives everyday, people are still standing in line at estate sales, poking around garage sales or visit ing live auctions. More astute collectors of fine objects, of course, work directly with dealers. Mel calls himself a "junker" and says he didn't pay much for his objects. I've paid low prices for the things I collect – never over $100 – since I don't go for the fine condition or rare items, and people give me things. Friends who have had to empty the homes of elderly relatives have given me old appliances and other things.
Over time, of course, some objects Mel has acquired have become very rare. As an "employee" so to speak, I rely on Mel for his great knowledge of mechanics of how the tools function. He collected them because he is an engineer and was intrigued by the human ingenuity represented by these inventions. Mel says that "innovation is my currency," since he never earned more than $30,000 in salary, yet he is a philanthropist. I also value the technological variety of the items. I love learning about the 19th century, which was an amazing time for the many inventions that were patented and the entrepreneurs who produced them.
He has some tools that come from other cultures and times, so it is very interesting for me to research their related food ways so I can explain the objects in the exhibit labels. His aim with the collection and exhibition is to inspire innovation and creative thinking, so the students and others who see the displays will develop new products to solve today's problems. I've tried to organize the displays and write text that would fulfill those goals.
Mel's key trait is curiosity. Despite his age, he is always thinking about new inventions and new businesses. He is very proud of his contributions to 140 patents while a part-time staff member of the Food Technology Products Company. Several of his personal inventions relate to freeflowing brown sugar. He has a limitless curiosity about how things work and how people behave. For example, for decades he has interviewed high school seniors as part of the evaluation process for admission to MIT. As a member of the Educational Council, he writes recommendations for young people he believes will be appropriate for MIT and gets a great personal satisfaction from helping them build their futures.
His curiosity drove him to collect these objects and that's why I named the exhibition "Culinary Curiosity," which also aims to excite the curiosity of the viewers.— – Can we call it "Blood, sweat and tears"?
Yes, it has been challenging work, but also very rewarding. Like many projects, it has been a juggling act to organize a team of partners and manage the parts of the project. I've coordinated with the College's administration and while attempting to fulfill Mel's dream. I selected a great group of talented professionals, and I work well with my graphic designer, editor, display case designer/ fabricator and graphics production people, photographer and filmmaker. The results have been worth it. I enjoy the research that informs what I write about the artifacts and the hunting for images that leads me to contemporary illustrations. Any scholar involved in research can tell stories about her most exciting discoveries and connections, and this project has given me quite a few. I've also learned a lot about label writing, exhibit construction and graphics production.
– What, if anything, attracts you to this particular project?
This is a challenging project for managing the work flow, organizing my own time, researching the content, and writing the labels. I'm grateful for the experience. I've worked as a member of a team for other museums, like the Museum of Science and Industry and the Toledo Museum of Art, to create educational experiences in a gallery setting, but this is a series of essentially two-dimensional displays that must be connected in messaging and appearance. This is the first time I've headed a project like this one, and worked on a project that has gone on for so long. We're in our third year now. We had some delays because of changes in management at the College, plus my regular work at the International Housewares Association and other consultant work take a great deal of time, so I can't devote full time to the Kendall project.
– Only a fraction of the 300 items Mel donated to Kendall College are currently exhibited. The remainder is yet to follow?
No museum displays all the objects in its collection – an interpretive display must choose the best examples to tell the story. Large institutions like the Field Museum or the Smithsonian may display less than ten percent of their holdings.
About 150 of the 300 objects are on view in the seven displays already installed. I'm working on three more sections now that will display probably another 50 items. If the school can allocate space for more displays, we can show more objects. Some of the objects may never be displayed and will only viewed on the website yet to be developed.
– Does Mel intend to donate to Kendall the remainder of his collection, or would that be cutting his life expectancy?
Mel is gradually allowing some of his most beloved objects to leave his home. It's hard to part with things that have surrounded a person for so many years, I can fully understand that. My own house is packed and I don't know what I'm going to do with all my things either! Many items in his home are not food-related, so we're working to find other repositories or directions for things like carved wooden decoys and some of his artworks.
– Roughly how many items remain in his possession?
That's hard to tell, given the variety of things in their home. Know anyone who likes old Victrolas or sewing machines?
– Is there any single favorite piece in Mel's collection that quickens your pitter-patter? Not necessarily unique or valuable from a monetary standpoint…
Yes, I have my favorites. One is a large wooden box that looks like a blanket chest. It is a "fireless cooker" that dates from about 1905 and was made in Grand Rapids, Michigan. It has three compartments – strawfilled pillows that surround metal cooking pots. The pots were heated on a stove and then placed in the box to keep warm. According to this exhibition's terminology, this item demonstrates "fuel conservation" and this ancient method of cooking appears in all cultures since the beginning of time. Today's Crock-Pot slow cookers work in similar fashion. Around 1900, most cookbooks had a chapter on "Fireless Cooking" and even instructions on how to make such a cooker. People could easily use a metal trash can filled with straw, and in medieval Europe, such "hayboxes" kept food warm. I also love the spit turner from about 1800 England. The collection has three rotisseries that operate on different principles. One is a gear-driven device that relies on gravity. It looks complicated but basically just uses the weight of a heavy stone as it drops to turn gears that rotate a spit to roast meat in a hearth. The technology of the gears and weights replaced servants or caged animals that turned the rod in front of the fire.
– How long will you continue with this project?
Aas long as it takes. We're planning on about three years of maintenance and promotion at this point. I'll be working with the marketing department to promote the exhibit and conduct tours. The next exhibits should be complete by December, 2009. If we get more space allocated and the budget allows, there may be more exhibits ahead too.
–Is a website in the offing?
Yes, we are working on that right now. I asked for proposals from several web developers. I've already found an energetic and capable young woman who works part-time at the University of Chicago special collections library to help me create the database, and I'll be working with a web company with museum experience to create a dynamic web presence. This web exhibit will bring the content to the world and enhance the educational experience for the students and faculty in the building. It will also reinforce Kendall's brand as a unique learning environment for all the disciplines taught there as well as the culinary school.
The site will include video clips to bring in motion and sound. We filmed Mel in August 2007 as he demonstrated how the tools work and discussed the objects with the dean of the culinary school and me. We might also link to video content to be developed later or from other sources.
This will be a fun project for me. I've never created a website from scratch, so I'll be working closely with the developers to organize the content and write new text appropriate to this medium so that visitors have a fun and educational experience. We want the navigational path to be engaging and lively, so visitors can "connect the dots" on how these tools worked in kitchens of the past and extrapolate to food preparation techniques of today and inspire innovation.