Audronė (Audrey) Kižys.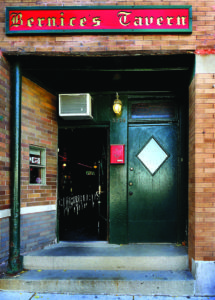 Next time you visit Chicago's historic Bridgeport neighborhood, make it a point to stop in at Bernice's Tavern. There you will find more than just a shot of Lithuanian history. Located at 3238 S. Hasted St. only a few miles southwest of downtown Chicago, Bridgeport was the center of Lithuanian life in the early 1900's. It was known as the Lithuanian downtown, claiming the largest Lithuanian population in Chicago. Chicago itself was known as the capital of "Lithuanian" America. Bernice's Tavern is a partial, yet an integral, part of Bridgeport's Lithuanian saga.
The current owner, Steve Ba­daus­kas, took over the family business in 2000 with his brother Mike working alongside.  It exhibits all the charm of an old-time neighborhood corner bar. You can picture men in fedoras and women in flapper-style dresses sitting at the full-length solid wood bar. The atmosphere is confirmed by the photos of yesteryear gracing the walls. The original tin ceiling remains in place, as well as many other antique features.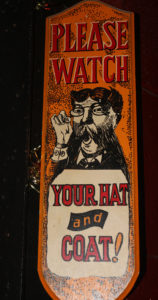 Wherever you look, you are greeted by historical remnants. There are cigarette advertisements touting the benefits of smoking and antique figurines, including classics like Laurel & Hardy lining the shelves. Mingling with the old photographs are original works of art by the owner, Steve. He is an artist in his own right and has already had three gallery showings to date.
Towards the far end of the bar at one of the back corners, one finds transformed a small performance area acoustically empowered for Open Mic Nights, usually on Thursdays. There are guitars and photographs of musicians hanging on the walls, along with an old Kingston Mines rug salvaged from the world famous Chicago Blues Center on 2548 N. Halsted St. Steve found the carpet during one of his many thrift-store treasure hunts.
Hidden treasures have been found throughout the building. For instance, after ripping out a portion of old flooring, Steve discovered some yellowing newspapers used as underlayment under the tile. One of the papers was an old issue of Draugas, the Lithuanian language newspaper which has been continually published since 1909, and which generated the Draugas News, which you are currently perusing.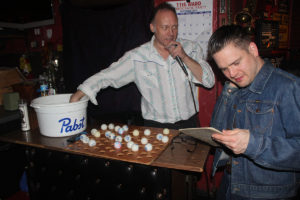 An architect friend of Steve's researched the history of the tavern and concluded that the building was constructed in 1883. It is difficult to establish the date definitively. While the Chicago Fire in 1871 did not reach the Bridgeport neighborhood, almost all of the city records were destroyed in that blaze. Initially, the building was a mortuary and funeral home, owned by Lithuanian J. D. Radzius, who is officially listed as an undertaker in city records. From 1900 to 1920, the building was a boarding house for about 20 newly-arrived immigrants; they lived on the second floor.  During the Prohibition (1920-1933), the building operated as a "store" (wink, wink). The building was later owned by another Lithuanian, Adam Dauksa, who began to run a tavern there legally, called Adam's Place.
The current owner's father, Jonas (John), who arrived at the U.S. from Lithuania in the post-WWII era in search of freedom and a better life, worked for Adam Dauksa managing the bar. When Adam retired, Jonas took over. Jonas's wife Bernice (Steve's mom), who was also of Lithuanian heritage, but born in the U.S., worked at the bar with her husband as well for many years. After Adam Dauksa passed away circa 1975, John and Bernice Badauskas became the owners.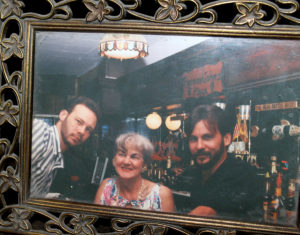 The business was different in the early days. It was common for the tavern to open at 10:00 am and have a full house of mostly male shift workers, having a "shot and a beer" before, during and after work. The Stockyards, portrayed in Upton Sinclair's book The Jungle, were just down the street.   Lithuanians made up about 85% of Bernice's clientele.
Bernice's Tavern has been a part of Steve's life for as long as he can remember. He even worked at the tavern as a child. He enjoyed working more than attending school. Industrious, he also worked next door at Frank's Television Repair Shop. Frank, as well as many of the other business owners and residents in Bridgeport at that time, was a Lithuanian. Mechanically inclined, Steve was already fixing TV's at the early age of 10. Customers would bring in their TV's and be shocked to see young Steve immediately start taking the set apart. "What are you doing?" the customers would ask in alarm. Steve would calmly say, "You want your TV fixed – don't you?" The customers, who usually assumed that Steve was Frank's son, would then demand that Steve call his father in, to which he would retort, "Why? He's next door at the bar, and besides, he doesn't know how to fix TV's." Steve would then proceed to repair the astounded customer's TV.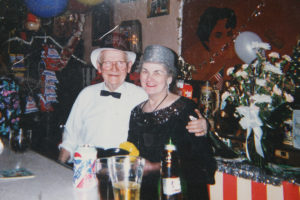 For a time the tavern didn't have an official name, though it did have two alternates. It was called John & Bernice's, by Steve's father John, or Bernice & John's, by his mother, Bernice. It was an on-going contest of wills between Steve's parents, and needless to say, it was Bernice who prevailed.
Steve recalls how his mom Bernice painstakingly drew clothing on all the pin-up girls, who were featured on the matchbook covers in its day. There were boxes and boxes of these matches, and Bernice "dressed" all these ladies in modest bikinis. Occasionally, a client would react in disappointment asking, "Hey, what happened to my gal?" Steve showed me some of the matches, and I must say Bernice drew very authentic looking swimsuits. I would have never guessed they were hand drawn.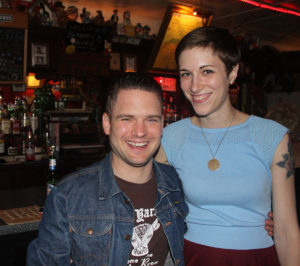 As time progressed, it became less acceptable to drink during working hours. With the growing awareness of the effects of alcoholism and the campaign against drinking and driving gaining momentum, fewer and fewer clients were coming in at 10:00 am. Two bartenders were no longer needed. Bernice semi-retired, while Steve's dad John continued to serve at the bar. In 1998, John passed away, having outlived many of his customers. Steve, who had a full-time job as a machinist, without hesitation quit his steady job to take over the tavern that had become the family's legacy. His brother Mike helps out.
Keeping the family business going is a tribute to the dedication and hard work of Steve's parents. At his father's wake, John's brother Antanas (Anthony) and Steve's uncle, who also owned a business – a barbershop – in Bridgeport, told the boys that their father was a real hero. He recounted that John had 12 siblings in Lithuania. During WWII and the German and Soviet invasions of Lithuania, the family members were being systematically killed. Jonas was determined to escape Lithuania. He took several of his siblings with him, including Antanas, and this action undoubtedly saved their lives.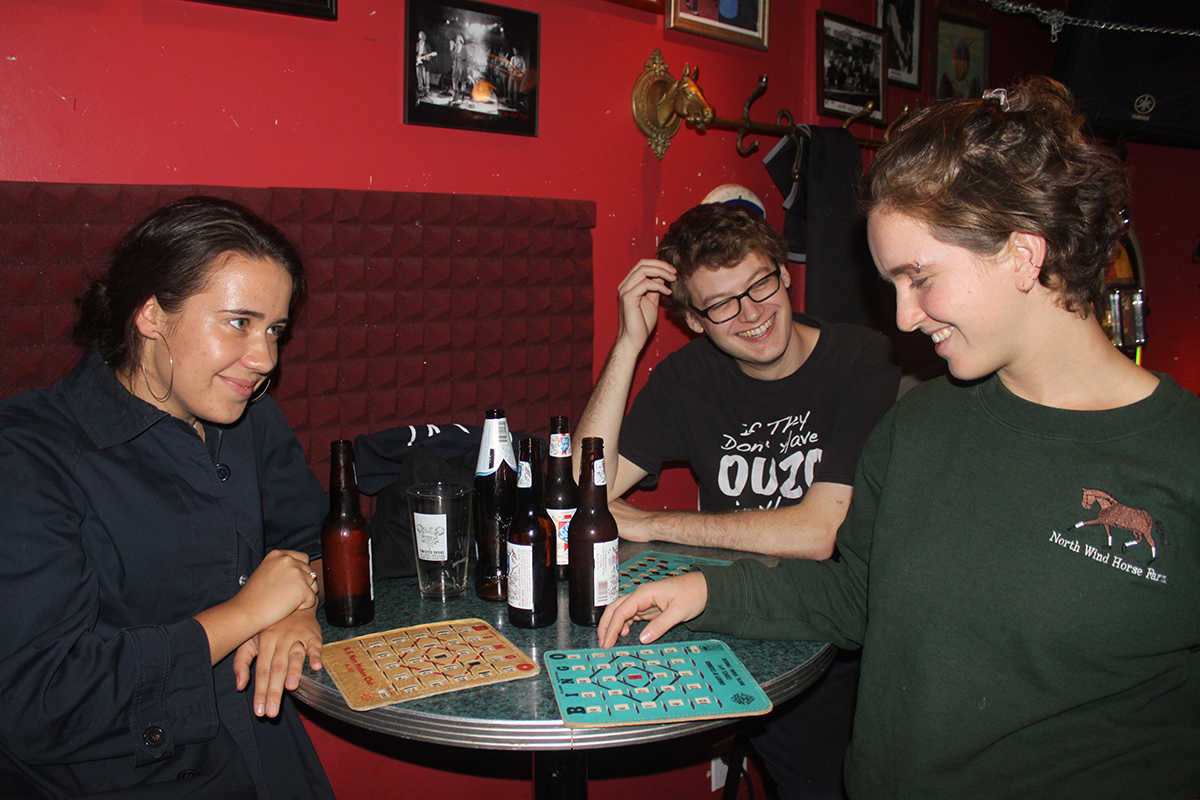 After his father's death, Steve faced the challenge of rebuilding the business. He seems to have fared quite well. He officially named the tavern Bernice's Tavern and instituted theme nights. During Live Mic night, one must play a musical instrument to perform. I interviewed Steve on a Thursday, and the musicians were quite good. On the tavern's Facebook page, I found posts by Lithuanian musician Vyto B (Vyto Baleska), who had played at Bernice's. A live band is often showcased Saturdays. Sundays are known for Steve's famous Bloody Marys complete with a skewer of your choice of vegetables, cheese, and meat. Wednesday is Stingo night, Steve's spoof on Bingo, a unique experience. He has hosted Stingo for 13 years now.
Steve is a quick-witted comedian, which is also apparent from the videos posted on the tavern's Facebook page. My favorite, all done in one take, is entitled "Memorial Day" in which Steve sells his famous Bloody Marys. Check it out if you need a good laugh. Even Hollywood came calling. A small budget film Banana Season with actor James Kyson and Steve as an extra was filmed here.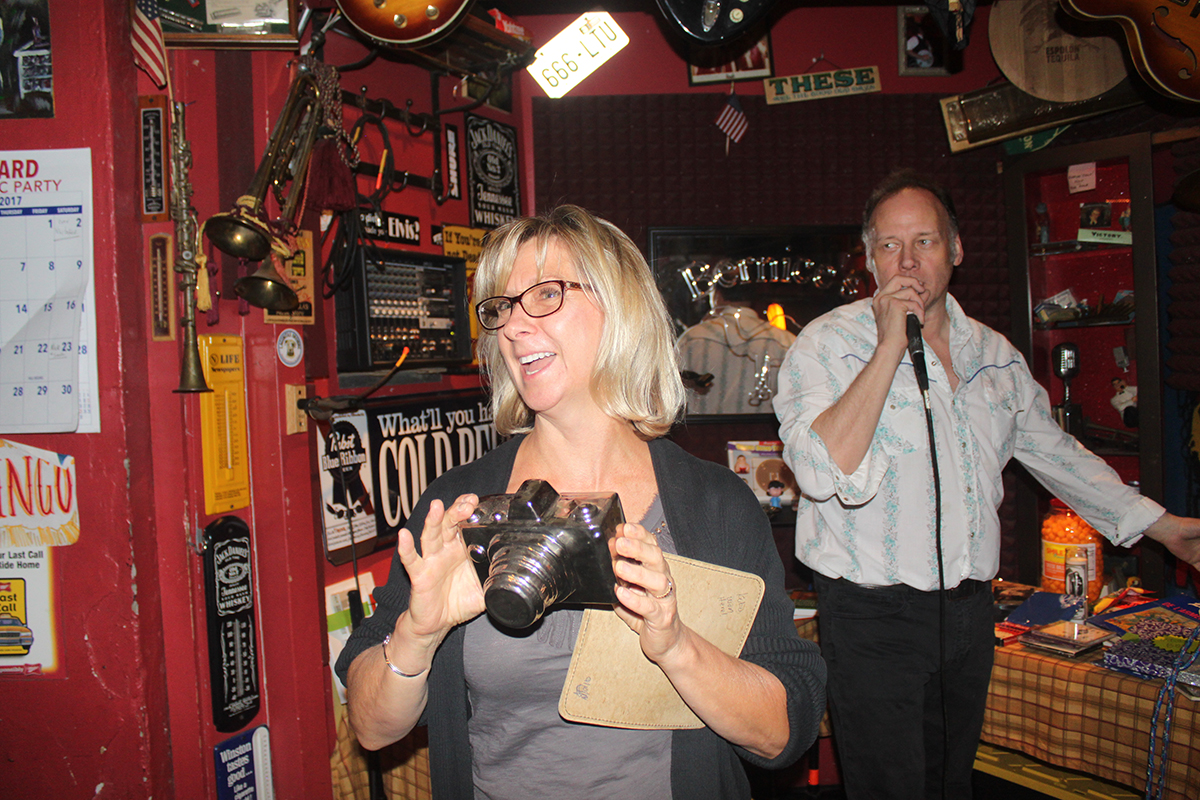 There are many regulars. One couple, Keith Judge and Emily Wall, even got engaged here. Steve worked the proposal into a Stingo Bingo night. To the surprise of the bride-to-be and everyone else at the bar, when she "won" at Stingo (the one time it was a fixed game), she was offered an extraordinary gift, a ring. She said "Yes." I met the happy couple and, would you believe it, Keith has a Lithuanian heritage! His great-grandfather was Lithuanian. You really do meet Lithuanians everywhere.
Unfortunately, I never did get to meet the legendary Bernice. She passed away just this last June. But her name lives on at the tavern with her two sons at the helm.
Bernice's Tavern is closed on Mondays and Tuesdays, so come in on a Friday to meet Mike.  Steve is there most of the other days. Order a Lithuanian beer — a Švyturys when you get there. With your splash of modern-day Bridgeport, you'll get a taste of Lithuanian history as well. As one of the signs on the wall says, "Beat the Christmas Rush. Start drinking now."